Drop shipping
Erweiterte und zuverlässige Warenvertriebswege schaffen neue Synergien im eCommerce

Advanced and reliable merchandise distribution methods create new synergies in e-commerce. Many professional e-commerce operators had to learn the hard way that one should not have all the eggs in one basket. The had their seller profiles blocked outright for reasons unknown. This is to show that an unforeseen operation can be lfie-threatening to the business. That is why c.b.c. logistics works with holders of goods (manufacturers, wholesalers, distributors) and provides individually crafted drop-shipping solutions.
Some advantages of working together:
You decide which marketplaces we engage to sell your merchandise
You determine in which countries we should be present
We offer your established prices
Sold items are shipped from either our or your logistics centre
Full discretion – no information about suppliers and business relationship
Use our know how in the area of distribution and logistics
Our team takes over the customer communication at your request. Also in Mandarin, Japanese, Spanish, Portuguese, Russian, French, German and English.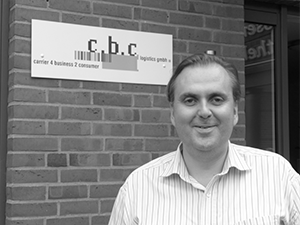 Ansprechpartner: Benjamin Koritnik
Key Account Manager - Cross Border Trade
We optimise your parcel shipping
c.b.c. logistics is your partner when it comes to shipping business and logistics solutions. Contact us now! Our consultation is non-binding and free of charge.