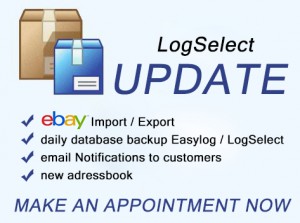 You certainly attach great importance to rapid successful delivery of the goods to your customers and uncomplicated as possible shipping process with comfortable features !? We as your partner pay attention to your needs and therefore develop LogSelect for you. therefore We are pleased to introduce the new update that. From today, the 02.04.2016 are for you
Log Select update on 02/04/2016 Here is a brief overview:
ebay Import / Export of shipment numbers by CSV for ebay site
daily database backup of Easylog and LogSelect in a directory of your choice
email Notifications to provide customers with tracking number (DHL / UPS / PARCEL.ONE)
address for recurring recipient addresses
New guide data for DHL
As you may have already noticed, there is a routing code update for Easylog since 01.02.2016. This update occurs automatically when you restart LogSelect and Easylog. Please install the new Leitcodedaten. Just as the new packing stations, roads and postal branch addresses for the service post office can be integrated directly into your Easylog. Of course you can as usual feel free to contact with any questions at our service under +492507 53920-20 or art under +492507 53920-30; or use our call back service.